HOLIDAY LIGHTS SERVICE IN BEVERLY HILLS
The Christmas Light Guy Co. has been trusted by Beverly Hills business and homeowners for more than 15 years to provide exquisite holiday and special even lighting installations and outstanding customer service.
Each member of our team is dedicated to making sure that our customers are 100% satisfied with the services that we provide. We believe there is no better marketing than a happy customer. In fact, our business is built on word of mouth advertising and with high-profile celebrities and some of Beverly Hills most exclusive neighborhoods as our clients, we are proud to have earned a strong reputation.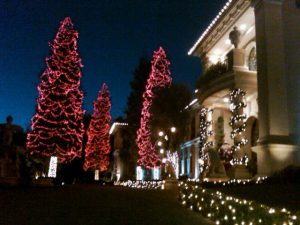 Professional Installation
Planning a holiday or special event is a time consuming and involved project. Thankfully, you can count on the team at The Christmas Light Guy Co. to expertly manage the professional installation of your lighting display, no matter how simple and intimate or complex and impressive you would like for it to be. Our team is fully insured and will come to your home or business with the proper experience and equipment to handle your installation.
Custom Designs
The Christmas Light Guy Co. specializes in collaborating with our clients to develop custom designed lighting displays. Sometimes our clients have a very clear vision of what they would like and other times they look to us for recommendations and ideas, either way, we are happy to help! Our team of experts knows how important it is that your lighting display be unique and representative of the feelings that you have about the event or holiday. We will work with you to make sure that your guests have that same feeling when they arrive at your home or business.
Residential Installation
Residential installation can vary in complexity depending on the priorities of the client. Whether you are having a large special event or simply getting your home into the holiday spirit, The Christmas Light Guy Co. can provide you with outstanding residential lighting installation including props, custom wreaths, roofline lighting, tree lighting, and landscape lighting.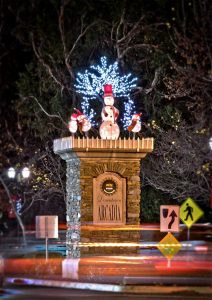 Commercial Installation
We are business owners just like you are, so we know first-hand how important it is for your customers to feel welcomed when they visit your location. Our team stays in-touch with the latest in commercial lighting installations, because we know how a professionally installed lighting display that celebrates a certain holiday or event can make a positive impact on your sales. When your customers are impressed with your space and feel happy to be there, they are more likely to make a purchase. Trust the team at The Christmas Light Guy Co. to install a beautiful lighting display that sets your business apart from the rest.
The Christmas Light Guy Co. offers complimentary 24-hour maintenance service to all of the displays that we install, ensuring that your lighting always looks its absolute best. Our team is committed to making sure that each of our customers receives superior service. After your event has come and gone, we will come to your business or home and make sure that all lights and materials are removed and that your property is treated with respect.